Precast Stairs And Landings

Description
The precast concrete stair & landing manufacturing facility at Harrington Concrete allows flexibility, as each individual precast unit can be manufactured to any width, rise & going in accordance with the Technical Building Regulations, using our fully adjustable moulds. Each unit can have the landings attached or left separate, as required.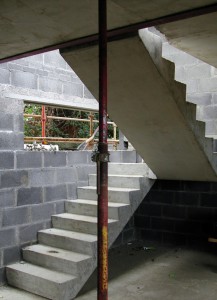 Benefits
Harrington Concrete stair & landing units are an efficient form of construction as they promote construction safety and speed. Manufacture is not affected by adverse weather & site conditions as each precast unit is cast under controlled factory conditions at our facility located in Dublin. Each precast unit is designed, manufactured, delivered and installed quickly, by our dedicated team at Harrington Concrete, as programmed, to ensure that the robustness and fire protection properties inherent within Harrington Concrete Structures, are also maintained within the Staircases, to provide a protected, solid and secure means of escape, in the event of a fire. The overall advantage obtained by using Harrington Precast Concrete Stair & Landing units, is a safe, superior and cost efficient means of access and escape between each floor level, when compared to alternative stair construction methods, designed to give an equilvalent standard.
Design Notes
Design Standard: In accordance with BS 8110
Widths: Stair & Landing Units 800mm – 3000mm (Separate or attached, as required)
Rise (Step Height): 150mm – 220mm, depending on floor levels and the Technical Building Regulations.
Going (Step Span): 220mm – 300mm, depending on floor stair openings and the Technical Building Regulations.
Waist (Thickness): 150mm – 225mm, depending on span and design characteristics.
Finish: Stair & Landing units are cast and finished under controlled factory conditions to BS 8110, part 1, type A
Fire Ratings: One Hour Fire Protection as standard to BS 8110, part 2.