Precast / Prestressed beam and column frames

DESCRIPTION
Due to increasing demands for fire protected building materials, by Insurers, buildings constructed with fire protected frames and sheeted using fire protected cladding systems are favoured, in order to limit the potential danger and loss, which may occur, in the event of a fire. Harrington Precast Concrete Beam & Column Frames always ensure complete fire and corrosion protection throughout a building structure, where it benefits most, as they are proven to have natural robust properties that will protect a building, constantly, over its lifespan.

BENEFITS
Harrington Precast Concrete Frames are an efficient form of construction as they promote economics in terms of work safety, product quality and speed of construction. Manufacture is not affected by adverse weather & site conditions as precast units are cast under controlled factory conditions at our manufacturing plant located in Dublin. Each precast unit is designed, manufactured, delivered and installed quickly, by our dedicated team at Harrington Concrete, as programmed, to ensure that the robustness and fire protection properties inherent within each concrete unit is united together to ensure a solid, reliable and long lasting structure. The overall advantage obtained when compared to alternative frame methods is a proven, safe and cost efficient structure, which is virtually maintenance free over its lifespan.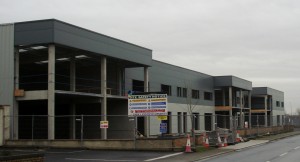 DESIGN NOTES
Design Standard: In accordance with BS 8110
Spans: Up to 30 metre clear span.
Beam Shape: Pitch 4 or 6 degrees. Rectangular at eaves and I shaped at cross section center.
Column Shape: 300mm or 400mm sq., as standard, specials depending on height, load and beam span.
Finish: Cast in steel moulds under factory conditions to BS 8110, part 1
Fire Ratings: One Hour Fire Protection as standard to BS 8110, part 2